19 Best Cat Names From Movies
Skip To
It's Friday night. You have your blanket and your popcorn and your pajamas. Your favorite feline is purring next to you on the sofa in anticipation of movie night. After all—watching films is one of the most relaxing and entertaining ways to pass some time.
And if you need some naming inspiration for a new cat coming into your life, cat names from movies are a great place to honor your love of the cinema and give your new feline friend a pop-culture-inspired moniker.
We scoured different decades and genres to come up with this list of the best cat names from movies. Roll film!
Our Favorite Cat Names From Movies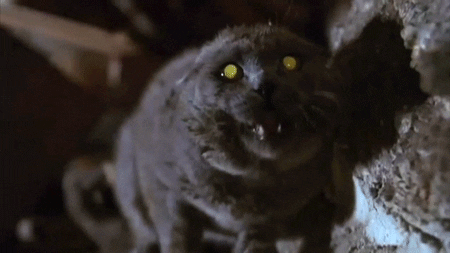 Cheshire: We are big fans of disney cat names here, and this ode to the far-out feline from "Alice in Wonderland" makes a really great cat name. Not only does it bring to mind his famous googly eyes and wide-toothed smile, but Cheshire sounds a bit regal and old-worldly too. It has a classic ring to it that is cool enough for your friends to appreciate even if they aren't Disney fans.
Milo: The heartwarming film "Milo and Otis" really brings back memories for us. Milo is the curious ginger cat who constantly gets into trouble. The pair separate during the movie, but then find their way back to each other. It's one of those movies about enduring friendship, and we think Milo is the perfect name for your feline bestie.
Jinx: Who can forget Mr. Jinx from "Meet the Parents?" He's a hilarious Himalyan who happens to be the pride and joy of Jack Byrnes, the father that Ben Stiller's character Greg Focker is trying so hard to impress. Mr. Jinx comes when calls, waves his paw, and also knows how to use the toilet. Smart cat! He becomes a key character in some of the funniest scenes and think this name is fitting for either a boy or girl cat with a mischievous streak.
Church: Okay, okay, we agree—the movie adaptation of Stephen King's "Pet Sematary" is terrifying. And Church the former cat of Ellie Creed is one of the main villians in the film who helps Gage kill people. It's dark, we know. But if you're a fan of the horror genre, this name is pretty cool.
Crookshanks: Ahhh, this feisty and intuitive feline is Hermione Granger's companion in the "Harry Potter" movies. And despite Ron having a beef with him initially (since Crookshanks was mean to Scabbers, aka Peter Pettigrew), Crookshanks becomes a friend to nearly all of Hermione's trustworthy compatriots. While Crookshanks is a male cat in the films, we think the name is perfectly suitable for both boy and girl cats—as long as they are clever!
Best Boy Cat Names From Movies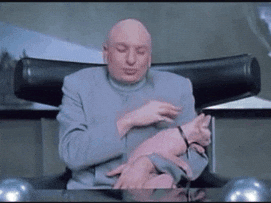 Mr. Bigglesworth: If you remember Mike Myers playing the role of Dr. Evil in the "Austin Powers" film franchise, then you likely remember Mr. Bigglesworth, the hairless pet cat of the supervillian. In the films, Mr. Bigglesworth was always purring away, content in Dr. Evil's arms. While we like to think that your own male cat isn't quote so sinister, Mr. Bigglesworth remains an iconic movie cat name.
Orion: This orange and white cat seems to play a pretty insignificant role in the "Men in Black" movie. But he actually turns out to be the guardian of the galaxy. The cat belongs to the alien Rosenberg, who is killed in the film. Agent J knows that he is looking for something on "Orion's belt." And while he initially thinks it has to do with the constellation, it actually refers to the orb on the cat's collar.
Lucifer: He may not be the most likeable cat character, but this animated feline from "Cinderella" is definitely memorable. He is a cruel and conniving cat who is definitely not a friend to Cinderella and her mice friends. But despite his heft and his ability to be tricked, Lucifer is not foolish—he's a cunning cat who has plenty of tricks up his sleeve.
Floyd: Floyd is the cat belonging to Molly in the movie "Ghost." When Patrick Swazye's character Sam dies, Floyd can see and sense his presence. Floyd plays a big role in stopping Sam's killer from harming Molly. In a scene where the killer is hiding in Molly's apartment, Sam's ghost screams in Floyd's face, causing the cat to jump and scare off the intruder. Well done, Floyd. Well done.
Tibbs: While there are a whole lot of dogs in the animated Disney movie "101 Dalmations," Tibbs is one of the few felines that plays a large role in stopping Cruella's cruelty from getting out of control. He's the cat of the Colonel and will take any orders given by his owner. Tibbs winds up helping Pongo and Perdita rescue their puppies. And we love him for that.
Best Girl Cat Names From Movies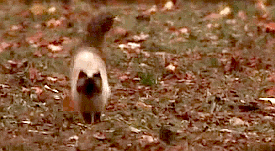 Buttercup: While this might seem like your traditional, flower-based cat name, Buttercup is actually the name of Primrose Everdeen's cat in "The Hunger Games." Yes, he's a boy cat in the films, but we think this is a fitting name for female cats. While Buttercup and Katniss aren't exactly friendly to each other in the beginning (she even attempted to drown him), this cat is very protective of Prim. He's an excellent hunter and very committed to his family. Eventually Katniss makes amends with Buttercup and they bond over their shared grief and turmoil.
Duchess: There are two movies where a cat named Duchess plays a decent-sized role. You'll find Duchess in "Babe" and also in "The Aristocats." In "Babe" Duchess is a pretty mean and spoiled feline who doesn't treat our beloved pig very well. But in "The Aristocats" Duchess is elegant and ladylike. Plus, she's kind and friendly to everyone. Whatever your girl cat's personality is, Duchess feels like it can be the right fit.
Sassy: Just like "Milo and Otis" the old-school Disney movie "Homeward Bound" has a special place in our movie-loving hearts. And the cat in the movie, who is the sibling of two dogs, is named Sassy. She's a Himalayan voiced by Sally Field who belongs to the character of Hope. Sassy lives up to her name—she's sarcastic and funny and isn't afraid to give Chance, a young American Bulldog, a run for his money. If your cat has an attitude and can hold her own, Sassy is a fun option.
Snowbell: We're fans of this playful name. It's not quite Snowball, it's not quite Jingle Bell—it's a combination of both. Snowbell is the feline in "Stuart Little" and—yes—he's a male in the film, but this is a suitable female name as well. In the movie, Snowbell, who is voiced by Nathan Lane, is a Persian who isn't a fan of Stuart in the beginning, but eventually becomes very good friends with the mouse. So if you've got a cat that takes a while to warm up to people, Snowbell may be the right name.
Mr. Norris: Yep, we've got another "Harry Potter" feline on the list, with this dedicated feline to the Hogwarts' caretaker Argus Filch. She is incredibly dedicated to her caretaker and alerts him of students who are misbehaving or roaming the halls at inappropriate times (we see you Harry!). She's intelligent and perceptive, so if your own feline has those traits and you're a fan of the Harry Potter movies, this is a great naming option.
Best Black Cat Names From Movies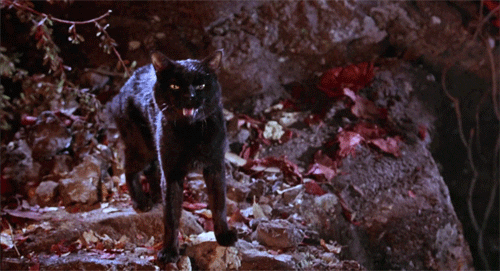 Binx: Hands down, one of our favorite seasonal movies of all time is "Hocus Pocus." Give us Bette Midler and Sarah Jessica Parker dressed up as crazy witches any day. Thackery Binx is the black cat in the movie. He is a boy who was turned into a feline by the Sanderson sisters. He plays a large role in helping Dani and Max break the curse. Plus, Binx is just a cool cat name.
Winkie: While the live-action Disney film "Escape to Witch Mountain" was made in 1975, the black cat in the film, Winkie, remains memorable to this day. As the young characters of Tony and Tia attempt to escape from danger in the mansion where they are being held, Winkie plays a key role, since one of the gate guards is allergic to cats. If you have a coal-colored cat with an adventurous spirit and a loyal streak, this is the perfect black cat name.
Salem: Most 90s kids probably remember "Sabrina the Teenage Witch" as a television series, but it was actually a film too, starring Melissa Joan Hart as the main witch character Sabrina Sawyer. In the film and the television show, Sabrina's beloved black cat companion is named Salem. He's a talking cat, who is dedicated to Sabrina's happiness and welfare, though he does his fair share of getting her into trouble. According to Sabrina's Aunt Zelda, Salem is originally from Mars.
Jiji: If animated films are more your style, then you may be familiar with the Studio Ghibli movie "Kiki's Delivery Service" which follows the story of a young witch named Kiki who leaves her home and starts a witch delivery service in the town of Koriko. By her side the whole time is her sarcastic sidekick, a black cat named Jiji. In the American-dubbed version of the film Jiji is voiced by Phil Hartman.
Don't miss the next pet food recall!
Stay up to date with pet-related recalls and alerts so you can help keep your dog or cat safe.