The Top 6 Cat GPS Trackers for Adventurous Felines
Cats are curious. It's a big part of what we love most about them. But that curiosity can sometimes lead our furry friends to sneak out of the house or wander a little farther than we'd like. And even when they make it home safely (eventually and on their own timeline, of course) not knowing where your cat is can be scary for any pet parent.
No matter where your pet's inquisitive nature leads them, a GPS cat tracker is an excellent way to ensure you're able to locate your furry friend wherever they roam. While a GPS tracker can't beam your cat back home at the push of a button, many brands, like industry-leader Tractive, have added new technology and app-enabled features that make it easier and more affordable than ever to keep tabs on your tabby.
To help pet parents choose the best solution and keep their cats safe, we took a closer look at this growing field and rounded up our top cat GPS tracker picks.
What Is a GPS Cat Tracker?
Some pet parents assume they don't really need a cat GPS tracker because their pet is already microchipped. However, microchips only help identify lost pets once they are found. And even then, the chip has to be scanned and the registry information must be up-to-date for pets to be reunited with their families.
True GPS cat tracking devices, on the other hand, transmit a pet's location using satellite data, so you can track your pet's location at all times, 24 hours a day, anywhere in the world. Unlike microchips, which must be inserted under the skin, a GPS pet tracker is typically worn by your pet — either attached to a collar or incorporated into the collar, itself. That makes pet trackers particularly effective in helping to keep pets safe and pet parents informed.
In fact, according to Dr. David Littlejohn, DVM, GPS tracking collars are becoming increasingly popular because of the instant peace of mind they bring to pet parents. "If your cat is an indoor cat and happens to get outside, you'll be able to find them much quicker," explains Littlejohn. "Likewise, if you let your cat outdoors and they're wearing a GPS tracking collar, it's nice to know you can locate them if they stray too far from home."
Some trackers have something called a "virtual fence function" that informs pet parents if a cat has left a predetermined area by sounding an alarm as soon as they cross the boundary of that virtual "safe zone."
"GPS trackers prove they're most useful in the cases when cats roam away from their usual areas and get lost, because they allow owners to quickly locate their cats," adds Dr. Paola Cuevas, a veterinarian for PetKeen.com.
She adds that some trackers offer added benefits, like calculating a cat's activity level and hours of sleep, which can help manage overall health and wellness.
How We Chose Our Top GPS Trackers for Cats
Although you may not be able to find cat GPS trackers in every cat household yet, they are becoming increasingly popular among feline parents. There are already dozens of options on the market to choose from.
To help pet parents find the best cat trackers out there, we rounded up some top picks as recommended by veterinarians, high-quality customer reviews, and our own experience as parents of adventurous felines.
6 Cat GPS Trackers That Made Our List
Looking for the best cat GPS tracker to suit your cat's specific personality and habits? Here are the tracking devices that rose to the top of our list:
The Top Cat GPS Tracker Options
Not all cat GPS trackers are created equal—which is why we've rounded up some of the very best options. The following six tracking devices were vetted by real pet parents and veterinarians and range in price point, specific features, and size and weight. Whether you're looking for a just-in-case tracker for your indoor kitty or you need something heavy-duty to keep tabs on your adventurous outdoor cat, there's a tracker to suit every kind of feline.
All featured products are chosen at the discretion of the author. However, GreatPetCare may make a small affiliate commission if you click through and make a purchase.
Overall Best Cat GPS Tracker
Our Pick: Tractive Waterproof GPS Cat Tracker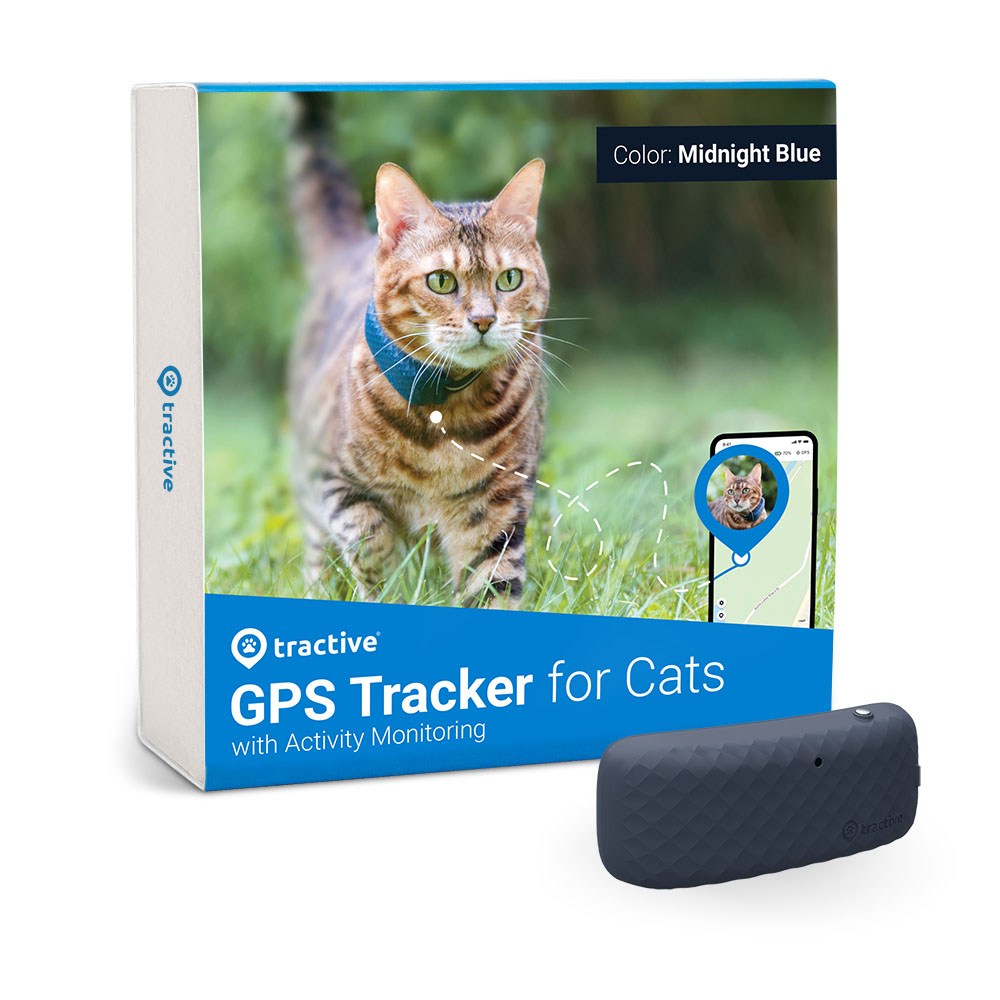 Save $10 off a Tractive GPS device with code GREAT10
The Tractive Waterproof GPS Cat Tracker is by far our top pick for the best cat-focused GPS tracking device on the market right now. Dr. Littlejohn also recommends this option to his clients largely thanks to the waterproof material, lightweight design, and impressive live-tracking and location history features, which can be managed directly from your smartphone.
Tractive cat trackers also include a virtual fence feature and will alert you when your cats venture outside of the customizable parameters. We love that this tracker offers insights into active time versus rest time and even allows you to track calories burned and set fitness goals for your feline friends. Plus, you can buy fun add-on accessories, like an American flag or rainbow patterned tracker cover, to customize your pet's tracker tech.
Tractive cat trackers use cellular data to pinpoint your cat's GPS location, so the service does come with a monthly subscription requirement, which starts at $5/month. But the precise, live tracking and enhanced capabilities make the flat fee worth it, in our book. Overall, a great choice that goes way beyond a simple location tracking tool!
Highlights
Lightweight, waterproof design is perfect for both indoor and outdoor cats
Advanced features include 365-day location history, ability to share tracking access with others, and coverage in over 175 countries worldwide
Available with collar or without
The user experience and included app are excellent and easy to use
Up to 7 days of battery life
Works in both the US and Canada
Things to Consider:
The monthly fees make this tracker more expensive than other options on the list, but the features also beat out the competition
Best GPS Cat Tracking Collar
Our Pick: Apple AirTag Cat Collar and Apple AirTag
This Apple AirTag Cat Collar combo is a great choice for any cat. But it's especially fitting for smaller cats or those who may not like the size and weight of a cumbersome, full-sized GPS tracking device. The reflective nylon collar was designed specifically to fit a single Apple AirTag and won't get in the way of your cat's climbing, exploring, or grooming activities.
This option is also worth considering for pet parents who don't want to pay for a monthly membership. The AirTag does not use traditional satellite-based GPS tracking technology. Instead, it uses a Bluetooth signal to connect to the Find My app on iPhone or Android devices. Wherever your cat's AirTag goes, it sends out a secure Bluetooth signal that can be detected by any nearby devices in the Find My network. To monitor your cat's whereabouts in real-time, simply log into the app to see your cat's location on a map. You can even put your cat's AirTag into Lost Mode to be automatically notified when it's detected by other phones in the Find My network.
Highlights
The perfect size for smaller cats or kittens
One-time purchase; doesn't require a monthly membership
Replaceable lithium battery lasts over a year
User experience is great—especially for users of iPhone 11 and beyond, which offer advanced Precision Finding features for AirTags
Things to Consider
This tracking device only works when in range of smartphones using the Find My app
Best Budget GPS Tracker for Cats
Our pick: Pawscout Tag
This budget-friendly tracking device is another smart option for pet parents who don't want to shell out extra bucks for a monthly fee or subscription. The Pawscout Tag is light, ultra-compact, water-resistant, and can be threaded onto most collars. It can even be customized with your cat's name and your contact information, just like a regular pet tag.
Pawscout tags are Bluetooth-enabled and do not include GPS functionality, themselves. Rather, the tag connects to your smartphone via Bluetooth signal and leverages the GPS capabilities of your phone to determine the approximate location of your pet. If outside of the 300-foot radius, the tracker will show your pet's last known location. This option is also battery-operated which makes it great for long-term use.
Highlights:
Affordable price point is hard to beat
Small and compact design
Offers the ability to track walks and activity, as well as a "virtual pet leash" that notifies you if your pet leaves a certain area
Tags can be customized with your contact information
No monthly membership fee
Things to Consider:
Must be within 300 feet of you or another person with the Pawscout app to work
If tracker is out of range, it will show pet's last tracked location
Best Multi-Purpose GPS Cat Tracker
Our pick: Tracki GPS Tracker
Looking for a multi-purpose tracking device that will allow you to track multiple different pets, kids, and even valuables all in one place? The Tracki GPS Tracker is small and durable, so you can easily clip it onto a cat's collar. But it can also be used to track anything of value, like luggage, cars, equipment, and more.
The tracker itself is equipped with 4G LTE tech capable of real-time tracking over unlimited distances, anywhere in the world. And it comes wth a variety of included accessories to help you adapt it to any purpose you need — strong magnet, waterproof silicone cover for pet collars, belt clip, keychain, and lanyard. The GPS satellite-powered tracking capability makes it an excellent option for cat parents whose furry family members tend to wander off on extended adventures
Highlights:
Unlimited distance functionality is great for cats who love to explore
About one-third the size and weight of other GPS trackers
The multi-purpose tracker and user-friendly app make it easy to track multiple pets, kids, or valuables
Rechargeable battery lasts 5 days when tracking every 1-5 minutes, 30-75 days when tracking 1-3 times per day
Things to Consider:
Requires a monthly membership fee of $10/month, which is higher than competitors
Not designed specifically for pets, so it doesn't have some pet-friendly features other trackers offer
Best Lightweight Cat Tracker
Our pick: Tabcat Cat Tracker
The Tabcat Cat Tracker is one of the only trackers we found that is specifically designed for cats, and it shows in the attention to detail! This super sleek and ultra-light tracker is billed as the smallest and lightest cat tracker on the market, weighing in at less than five grams. So it's great for finicky cats who can't stand being weighed down.
When it comes to finding your cat, Tabcat works differently than most other trackers on the market. It uses radio frequency technology that works over a wider range than Bluetooth-enabled locators and provides much greater accuracy than GPS trackers. Instead of logging into an app or finding your cat on a map, pet parents use a small Tabcat handset to scan for a cat's tracker. And as you zero in on a direction, the handset with light up and emit sounds that increase in pitch and frequency the closer you get to your cat.
Tabcat claims that their tracking devices can pinpoint the exact location of your cat (give or take an inch), which can be helpful if your cat's an expert at hide-and-seek. Tabcat can even provide walking directions to help you get to your cat using the most efficient route possible. The device uses rechargeable batteries and also offers a two-year manufacturer's warranty just in case anything goes wrong.
Highlights:
Comes with two lightweight and compact homing tags, two splashproof protective cases, and a handset sensor
Uses radio frequency for extremely accurate and precise tracking within 600 feet
Includes a rechargeable battery; sustainability-minded
No monthly subscription fee
Comes with 30-day money-back guarantee and two-year manufacturer's warranty
Things to Consider:
Doesn't include a smartphone app
Tracker must be within 500 feet or less of the handset to work, and interference from walls, doors, and buildings may reduce that range
Best Waterproof Cat GPS Tracker
Our pick: PetFon Pet GPS Tracker
While most cats are notorious for hating water, you never know when your favorite feline will be at the mercy of the elements or the great outdoors. That's why the extra-durable PetFon tracker gets our vote. And Dr. Cuevas agrees that superior quality makes a big difference in cat trackers. "My recommendation would be to invest in waterproof trackers that, while a bit more pricey, will last longer," she says.
It is important to find a tracker that is lightweight and will allow the cat to move comfortably while wearing it—but just as important to opt for a device that won't malfunction in extreme conditions. The PetFon Pet GPS Tracker is water-resistant, so it can weather getting caught in the rain. And it also offers real-time and long-distance tracking, as well as multiple virtual fence zones that range from "safe zones" to "danger zones." We also like that this tracker can be recharged and doesn't require batteries.
Highlights:
Great performance; no monthly fees
Water-resistant and weatherproof
Includes multiple virtual fence options
Features long-distance real-time tracking
Things to Consider:
The option to recharge rather than replace a battery is great but requires almost daily charging
Cat Tracker Buying Guide: What to Look For
Cat GPS tracking devices have a wide variety of features and benefits targeting all different types of cats (and cat parenting styles). So you'll need to prioritize what's most important to you and your cat before selecting a specific tracker. Here's what you should consider when deciding on the right tracker for your cat.
Size and shape: Cat GPS tracking devices come in many different shapes, sizes, and styles. The most common options clip or attach onto a regular collar but you can also find much smaller tracking devices that come enclosed in a tracking-specific collar that might be a better option for smaller cats.
Cost and monthly fees: Tracking devices tend to be pretty budget-friendly but you'll want to factor in the monthly fees some brands charge to keep the tracker active. This fee tends to be around $5 to $20 depending on the membership tier you select. Opting for a longer membership or subscription period can net you bigger savings, but you may not be able to get any money back if you cancel your plan early. So be sure to read the fine print.
Battery life: How long a GPS tracker lasts should play a major role in your decision. Certain trackers will last for weeks on end between charges while other non-rechargeable options will last for about a year before needing to be fully replaced. And the way you use the tracker may impact the battery life. Some trackers will let you switch between real-time tracking (which tends to use up battery life faster) and battery-saving mode (which still tracks your pet, but not in real-time).
Cat GPS Tracker FAQs
Can I track my cat with a microchip?
The short answer is no—you cannot track your cat with a microchip. The main purpose of a microchip is to link a pet parent's name and contact information to their pet. That way, if your cat makes their way into a neighbor's yard or somewhere across town, anyone who finds them can take them to a veterinarian's office and have the chip scanned to facilitate a reunion.
Furthermore, the microchip uses RFID technology rather than GPS tracking and can only be read by RFID-specific readers at a veterinarian's office, police department, or select PetSmart locations.
Are GPS trackers safe for my cat?
Yes, GPS tracking devices are a totally safe and convenient option for keeping tabs on your feline friends. That said—you'll want to ensure the tracker you choose is small enough for your cat to comfortably wear without pulling at their collar or causing them discomfort.
How much is a cat GPS tracker?
There's a huge spectrum of price points when it comes to cat GPS trackers. Well-known brands like Tractive with advanced capabilities can cost upwards of $70 per tracking device, while lower-tech options with fewer features run you as little as $15. Keep in mind that many brands will also charge a monthly fee of around $5 to $20 to keep the tracker active.
Are cat GPS trackers worth it?
Cat GPS trackers are absolutely worth the money—especially if you have an adventurous cat who tries to escape out the door every chance they get. While trackers that are designed specifically for pets often come with extra health and wellness-enhancing benefits, if you don't need all that, you can opt for any kind of object tracker options, like Tile or Apple AirTags, which are often lower-priced.
Using a Pet Tracker: Tips and Advice
Remember, trackers can benefit indoor and outdoor cats alike. Indoor cat parents may think GPS trackers are not necessary for their cats, but they can come in handy if your cat likes to hide in unexpected places, says Dr. Cuevas. GPS trackers also help prevent indoor cats from getting lost if they accidentally make it outside. So even if you think the chances are slim, GPS trackers are worth considering for any type of cat.
Lightweight is best: GPS trackers for cats need to be safe and reliable. "They should be small so that a cat can easily wear them without getting them caught on things," explains Dr. Cuevas. "They should be waterproof and lightweight."
Do not rely on a tracker alone: There are multiple ways to ensure your cats don't wander off too far. You'll want to consider activating a wireless fence—most GPS trackers will also allow you to set up a wireless fence to help keep your kitty contained and will alert you if they venture too far away. And while microchips don't track lost pets, they are an essential part of helping you reconnect with a pet, once found and scanned. So it's always a good idea to ensure your pet is microchipped and your registration information is up to date, just to be extra safe.