8 Best Dog Birthday Gifts
Everybody loves getting birthday gifts…and that includes our canine companions!
Of course, there's a good chance your doggo doesn't even know when it's their birthday. But, in our opinion, that's an even better reason to make a big deal out of the day. And a growing number of pet parents agree. According to one report, nearly half of surveyed pet owners said they celebrate their pet's birthday or adoption day.
There are plenty of ways to celebrate your dog's special day — a party, photoshoot, birthday gift…or all three! And, these days, pet parents have loads of great choices to delight their birthday boy or girl.
From yummy handmade birthday treats to subscription boxes, toys, gear, and even a one-of-a-kind book featuring your dog as the main character from Yappy, the options are just about endless.
Deciding what to choose and how to celebrate is getting increasingly complex. So here's some help to ensure your birthday pup enjoys the best bday ever.
Dog Birthday (and Gotcha Day!) Celebrations
If you've never thrown a dog birthday party or surprised your pet with a birthday present, there's no need to feel bad. The trend seems to have developed relatively recently, perhaps driven in part by increased spending on pets overall, and within certain age groups.
According to one study, about 60 percent of pet parents between the ages of 30-44 bought their pets birthday or holiday gifts, while 92 percent of millennial pet parents reported the same in another survey.
There's also the issue of not knowing a pet's specific birth date, which is often the case among rescue dogs. In this scenario, you can always celebrate "Gotcha Day," instead — the date you brought your new pup home.
Whatever your history with dog birthday celebrations, there's no time like the present to start thinking about the best type of present or celebration for your birthday pup. Some pet parents go all out, inviting friends, family, and pals from the dog park to a birthday party. Others simply celebrate with an extra special birthday meal or treat. Whatever you choose, as long as you pile on the extra love and pats, your birthday furball is sure to feel extra special.
Our Top Dog Birthday Gift Picks
If you're looking for the ultimate dog birthday present, we're here to help. We've done some in-depth research on gift options, prices, and reviews from pets and parents alike to bring you eight dog-approved gifts that are sure to make your pet's birthday bash a hit!
All featured products are chosen at the discretion of the author. However, Great Pet Care may make a small affiliate commission if you click through and make a purchase.
Our List
8 Best Dog Birthday Gifts
Choosing a birthday gift for your dog really is a whole lot of fun. From unique custom gifts featuring your very own pup to gourmet treats for your furry foodie, here are eight perfect gift ideas for your perfect doggo.
Whether you're celebrating your dog's birthday or Gotcha Day, you're sure to find something below to delight your dog. Our resident experts (and their humans) guarantee it!
Best Overall Dog Birthday Gift
Our Pick: Yappy Personalized Dog Book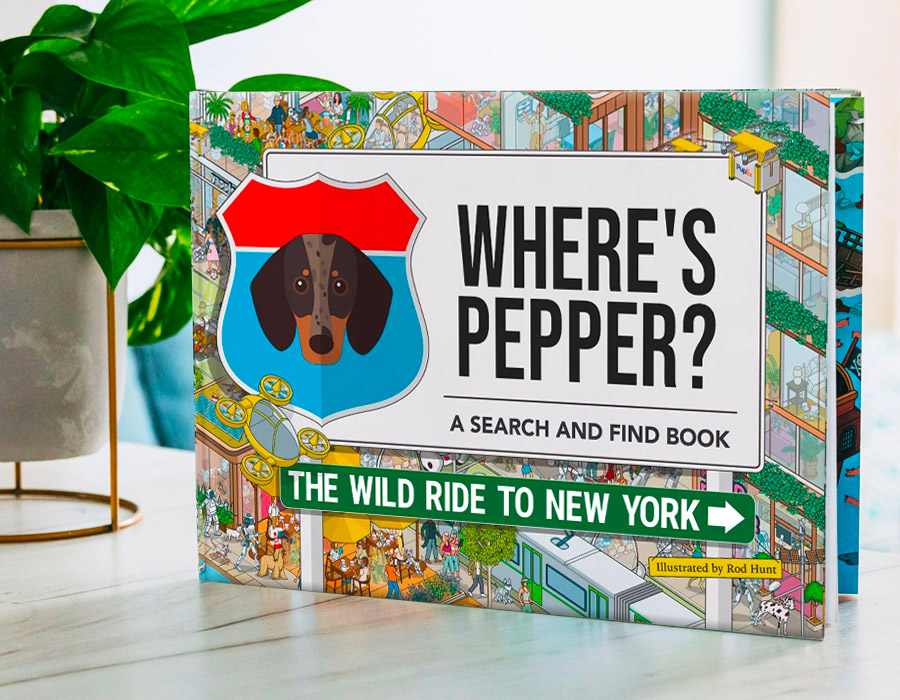 Use code YAPPY25 at checkout to save 25% off sitewide!
There's nothing that says "I love my pup" like a personalized gift. And this one is sure to be a hit with the whole family. This seek-and-find book is a lasting gift that not only celebrates your favorite canine, it features them as the main character!
Simply pick your pet's breed mix and color, as well as a state or town where their adventure will take place, and let Yappy do the rest. You'll receive a one-of-a-kind softcover or hardcover book that chronicles your dog's wild adventure. And it's up to you and your pup to figure out where their character is hiding on each page.
We love that this gift is a really unique option that celebrates your one-of-a-kind dog's special day…and their place in your family. Plus, it makes a great gift for other dogs (and dog-loving families) in your life.
Highlights:
Made in the USA
Fast delivery
Detailed illustrations, all featuring a hidden character in your dog's likeness
Also includes other hidden objects and characters to find
Choose from over 450 dog breeds and colors
Things to Consider:
Your pup may not get a lot of play value out of this book, but snuggling up to seek-and-find with them is a great bonding experience!
Best Dog Birthday Toy
Our Pick: ZippyPaws Birthday Toy Set
What's an essential part of any dog's birthday? A photoshoot of course! And this birthday-themed dog toy set is the perfect accessory for any birthday pup. Set up the cute plush cake slice and balloon toy, pop the dog birthday hat on your pup's head, and then just snap away! You'll have a perfect memory of your dog's special day for the gram. A festive, non-food way to celebrate if the birthday pup has allergies, food sensitivities, or is simply trying to limit calorie-laden treats. The balloon toy contains a squeaker that makes it perfect for a fun play session after your dog has finished posing for their photoshoot!
Highlights:
Choose from two colors
Includes three toys
Toys are well-made and durable
Perfect for birthday photoshoots
Things to Consider:
Hat toy isn't suitable for unsupervised play as it contains elastic
Hat may be too small for large breed dogs
Best Dog Birthday Box
Our Pick: BarkBox Monthly Subscription Box
For the birthday gift that keeps on giving, this monthly subscription box is a wonderful way to make sure that your dog never runs out of treats or toys — even when it's no longer their birthday! Each monthly box includes two toys, two bags of treats, and a long-lasting chew. The themed toys are made from high-quality materials with an interactive design. From chew toys to rope pulls, soft plushies, balls, and squeaky toys, half the fun will be opening this box with your dog every month to see what fun is inside! If your dog has allergies or specific dietary restrictions, BarkBox offers specific treats with these pups in mind. (Just note, you'll need to contact their customer service team directly to request these.)
Highlights:
Choose from boxes designed for small, medium, or large dogs
Each box is created around a specific theme
Treats made using all-natural ingredients
High quality with thousands of positive reviews
Things to Consider:
On the pricier end of the scale(though you're getting multiple gifts, not just one)
Price is the same for small dogs as it is for large
Best Dog Birthday Treats
Our Pick: HoundsomeDogBakery Decorated Dog Treats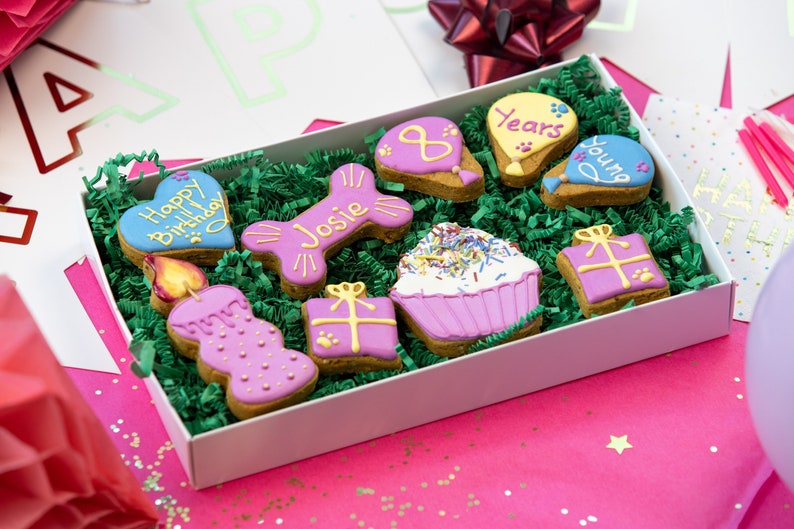 What better way to celebrate your dog's birthday than with a selection of delicious, personalized treats? Each birthday box contains nine yummy biscuits, featuring a range of designs including candles, bones, balloons, cupcakes, and presents. The biscuits and icing are made from a blend of dog-friendly, natural ingredients (all listed within the seller's description) but if your dog has any allergies or sensitivities, it's always worth checking these carefully. These treats get "paws-up" from thousands of dogs (and their pet parents), with lots of positive reviews to check out before placing your order.
Highlights:
Choose from a range of designs and colors
Carefully packaged to minimize breakage and crumbling during delivery
Box contains nine biscuits
Shelf life of one month
Things to Consider:
Not the best option for dogs with allergies, sensitivities, or specialized diets
Best Dog Birthday Bandana Gift
Our Pick: Personalization Mall Dog Bandana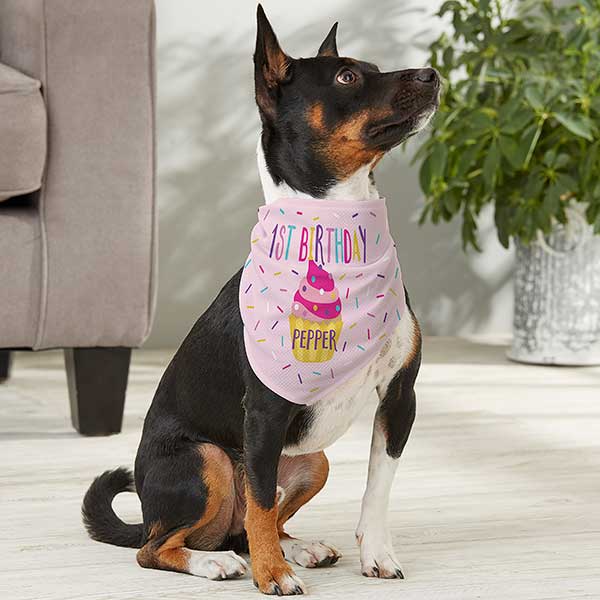 When it's your dog's birthday, cute photos are obligatory! Make those photos even more adorable by treating your dog to this sweet "first birthday" bandana. The design features colorful sprinkles and adorable cupcake, plus it can be personalized with your dog's name for an extra special touch. If it's not your dog's first birthday, Personalization Mall also offers plenty of other birthday-worthy bandana options, which can all be customized with your dog's name for a birthday they (and you) will never forget.
Highlights:
Choose from two colors and three sizes
Great value for money
Machine washable
Can be personalized
Things to Consider:
Even the small size may be too big for small breed puppies
Some pups may chew the ends of the bandana
Best Gotcha Day Dog Gift
Our Pick: RiverryStudio Custom Watercolor Dog Painting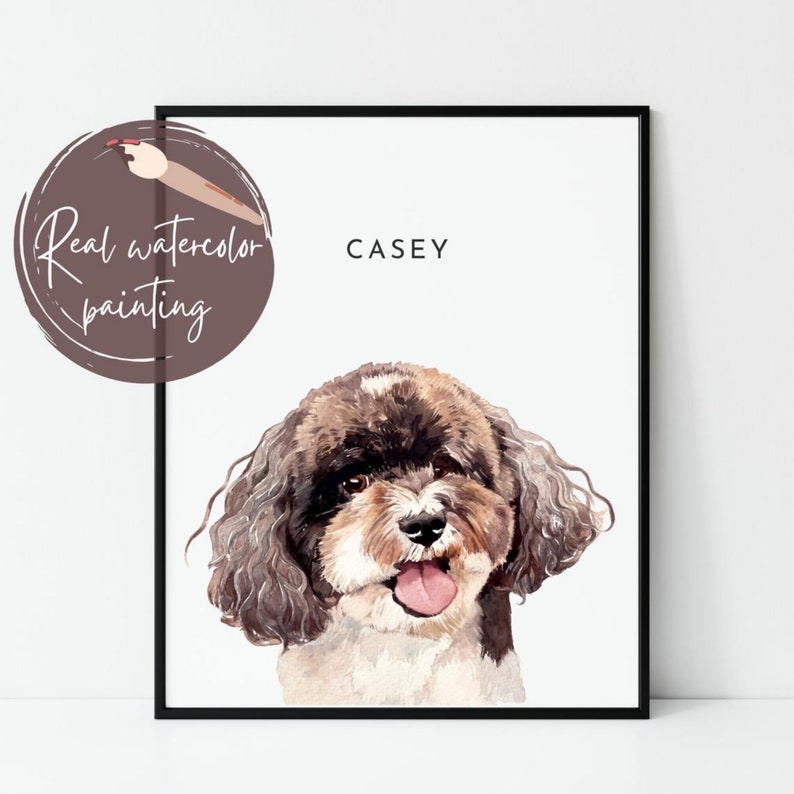 What better way to celebrate your dog's Gotcha Day than a custom pet portrait to show everyone who visits your house just how important your pup is. Admittedly, this is a gift designed more for pet parents — but even so, it's hard to resist! Unlike a lot of custom pet artwork options, this print is hand-painted by a watercolor artist before being printed onto premium paper. Or you can choose to receive a digital download instead. We also like that you get final approval on the artwork before it's created and can ask for revisions until you're completely happy with your design. There are also thousands of positive reviews plus plenty of photos of previous customers' results for you to check out before you make up your mind.
Highlights:
Hand painted by real artists
Choose from a range of options, including a digital download or printed versions
Can include your dog's name
Digital proof can be reviewed before finalizing your order
Things to Consider:
More expensive than other dog gift options
Needs a good quality photo for best results
Best Dog's First Birthday Gift
Our Pick: KONG Plush Play Pack Dog Toys
Puppies love to play, so this gift pack featuring a selection of fun new toys makes a great gift for your pup's first birthday! The KONG brand is known for high-quality, durable designs that are created to satisfy a dog's natural instincts. With four different types of toys to choose from, your pup can squeak, rattle, chew, or thrash to their heart's content. Best of all, these toys feature a soft plush exterior that's easy on you're pup's delicate mouth and teeth.
Highlights:
Contains four toys
High-quality
Last longer than most toys
Good value for money
Things to Consider:
Best for light/moderate chewers
Always supervise playtime to avoid the risk of choking hazards
Best Personalized Dog Birthday Gift
Our Pick: Custom Pet Gifts Personalized Fleece Blanket
If you and your dog love to snuggle up on the couch together, then a blanket is essential to keep you both feeling cozy on those colder nights. Upgrade your boring, regular blanket and wish your dog happy birthday by treating them (and yourself!) to this plush, personalized throw. Choose a size and color, send a photo of your dog, and you'll receive a gorgeous soft blanket with a stylized image of your pup's face — larger than life of course! For a little extra, you can have an image printed with multiple pets, or even a human face too!
Highlights:
Choose from three sizes and eight colors
Lots of positive reviews
Washable
Fast delivery
Things to Consider:
Expensive
Not many neutral colors to choose from
How to Choose the Perfect Dog Birthday Gift
With so many dog gifts to choose from, how do you find the perfect one for your pup? Here are some tips to guide you to the best birthday gift for your dog.
If you're buying food items like treats, it's important to make sure they don't contain any ingredients that your dog is allergic to. Any manufacturer will be able to let you know what ingredients they use, or if they offer low-allergy options.
In terms of price, you can find gifts to suit all budgets! From a pack of birthday-themed toys to one-of-a-kind artwork, you'll always be able to find the perfect option. If you are choosing personalized gifts like custom artwork or themed treats though, check out the reviews from previous customers, and read any instructions from the seller carefully before purchase, as most customized gifts are not returnable or refundable.
When buying for your own dog, you know what they love best! If buying for a friend and their pet, you might want to avoid food or toys and go for a personalized book, piece of art, or a gift voucher they can redeem later. Whatever gift you choose, making memories of a fun birthday with your dog is just one of the great things about being a pet parent. So make it count!