9 Best Custom Pet Gifts for Cat and Dog Lovers
Pets are truly one of a kind. That's why customized keepsakes that feature our favorite furry friends make wow-worthy gifts for any occasion. Whether you're shopping for a holiday, birthday, or even to honor a pet who's no longer with us, customized pet gifts are surefire ways to show a friend or family member just how much you care.
With a recent survey reporting that a whopping 70 percent of U.S. households own at least one pet (which works out to 90 million homes!), it's no surprise that the market for custom gifts for pet lovers is growing, too.
Brands like Yappy have made it easy to find custom gifts that match just about any pet's breed, size, and even coloration, while individual sellers on marketplaces like Etsy offer a wide range of products that can be instantly customized with a pet's name or likeness.
To find the perfect personalized gift for the cat or dog lover in your life, here's a helpful overview of what's out there. Spoiler…just about any kind of custom pet gift you can imagine!
Types of Personalized Pet Gifts
We all love our pets — which means that most pet parents will love nothing more than a personalized pet gift based on their beloved cat or dog. When it comes to the types of customization available, the sky is pretty much the limit. You'll find gifts including:
Jewelry
If bling is the thing you're looking for, you're in luck. There are plenty of customization options to fit every style and budget, from charms that depict a certain breed to pendants that can be customized with a pet's initials or even a laser-engraved portrait. (Or should we say paw-trait?) If you're buying a gift in memory of a pet who has passed on, there are memorial necklaces, rings, and earrings, some of which are designed to hold a lock of pet hair or cremation ashes, to keep a beloved dog or cat always close.
Books
Books always make a great gift — and there's nothing better than a book that features someone's very own pet! This is a relatively new category in customized pet gifts, which makes it a great option if you're looking for a unique, truly one-of-a-kind gift that's impossible to forget. A customized book is a great addition to any cat or dog lover's coffee table or bookshelf. And it makes an especially good gift for young pet-loving readers, too!
Artwork
Since most pet parents spend a good amount of time gazing lovingly at their pets, customized artwork is a great way to immortalize a beloved cat or dog. You can splurge on an impressive custom portrait that makes a dramatic statement. But there are also plenty of budget-friendly options that transform simple photos of a pet into a custom design that won't break the bank. With so many styles and options to choose from, the only hard part is deciding which one to pick.
Home Decor
From a stuffed animal of your dog or cat (yes, they're a thing!) and cushions customized with a pet's name or breed, to personalized leash hooks or stylish wine glasses, this gift category is almost endless. If you know someone who just can't get enough of their adorable pet, customized home decor items are a great way to infuse a favorite furry family member into every room of the house.
Clothing
Go over the top with clothing emblazoned with a cute pet's oh-so-smoochable face or opt for a more subtle approach, with apparel customized with a pet's name, breed, or cartoon likeness. From pajamas to socks, aprons, and shirts, you can find almost any and every item of clothing available to personalize as the perfect custom gifts for cat or dog lovers.
Our Top Custom Pet Gift Picks
With so many great custom pet gifts on the market, the options can sometimes seem a bit overwhelming. And some gifts are definitely more likely to elicit ooohs and ahhhhs than others. So we've done the hard work for you and rounded up the best of the best for the pet lovers in your life.
All featured products are chosen at the discretion of the author. However, Great Pet Care may make a small affiliate commission if you click through and make a purchase.
Our List
Best Overall Custom Pet Gift: Yappy Personalized Pet Book
Best Custom Pet Gift for Dog Lovers: Pop Your Pup Custom Art Dog Bed
Best Custom Pet Gift for Cat Lovers: GlassArtStories Stained Glass Cat Suncatcher
Best Funny Personalized Pet Gift: TinyFluffyPaws Custom Pet Portrait
Best Custom Dog Gift for New Pet Parents: Personalization Mall Leash Hook
Best Memorial Personalized Pet Gift: Custom Pet Gifts Personalized Angel Photo Necklace
Best Matching Customized Pet Gift Custom Hawaiian Shirt with Matching Pet Bandana
Most Unique Customized Pet Gift: Cuddle Clones Custom Plush
Best Value Custom Pet Gift: MyPhotosSocks Custom Face Mash Dog Apron
9 Best Custom Pet Gifts for Cat and Dog Lovers
From adorable personalized books to one-of-a-kind art and jewelry, here are the eight best custom pet gifts for everyone on your list, as evaluated and chosen by our resident pet lovers. As an added bonus, they make great gifts if you're looking to treat yourself, as well!
Best Overall Custom Pet Gift
Our Pick: Yappy Personalized Pet Book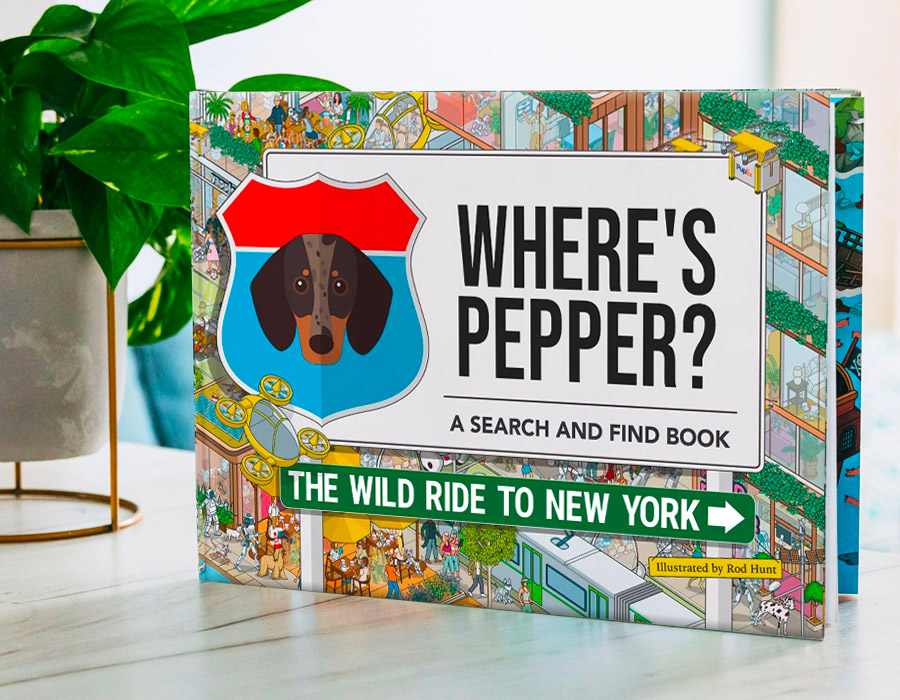 Use code YAPPY25 at checkout to save 25% off sitewide!
This search-and-find book is the perfect choice for pet parents. And it earned extra points from us because it truly is a novel (pun intended) entry in the personalized pet marketplace. Available in both dog and cat formats, this book is inspired by the well-known "Where's Waldo?" book series. But in this version, the search is on for a particular cat or dog! Customize this book by choosing a breed and color for up to two cats or dogs, plus a city or state name where the story's action will take place. Illustrated by Rod Hunt, each page features a challenging landscape or cityscape, and within each one is hidden your chosen pet's icon. For even more fun, there's also a range of 150 other hidden characters and objects to find on each page.
Highlights:
Available in both soft or hardcover
Choose from over 450 different breeds
Includes 36 fun-packed pages
Printed in the USA
Quick delivery
Things to Consider:
Best Custom Pet Gift for Dog Lovers
Our Pick: Pop Your Pup Custom Art Dog Bed
Plenty of companies will print your cute digital pet pix onto a product and call it a day. But Pop Your Pup turns your favorite pet photo into a truly distinctive, gift-worthy work of art. And we're not talking about an artistic filter here. Pop Your Pup works with real artists who use real-life painting techniques to digitally transform your image into a wide range of art styles, from Pop Art to Renaissance, Modern Chic to Pop Culture inspired.
Once you have your masterpiece, you can choose from a wide range of stylish pet products or home decor items. But we especially love Pop Your Pup's fun and functional custom dog beds as the ultimate gift for both dogs and dog lovers, alike. Featuring a removable cover that can be tossed in the wash, the beds are available in super soft fleece or durable weather-resistant fabric that's mildew and mold resistant, to boot.
Highlights:
Choose art style and background
Easy to upload pic, review design and add notes for your artist
Available in three sizes (18″ x 28″, 30″ x 40″, and 40″ x 50″)
Can feature multiple pets for an additional charge
Things to Consider:
A bit on the pricey side, but high quality according to reviewers
Best Custom Pet Gift for Cat Lovers
Our Pick: GlassArtStories Stained Glass Cat Suncatcher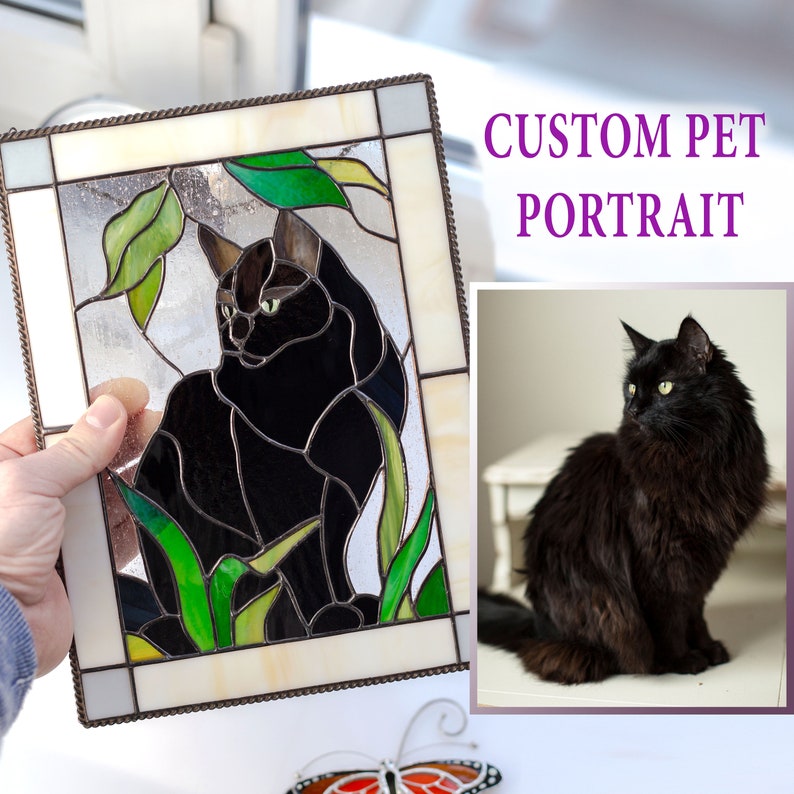 If you have a friend who thinks their cat is a ray of sunshine, then this stained glass suncatcher is a wonderful choice as a special gift. Provide a high-quality photo, then choose from a range of sizes, designs, and colors, and a custom stained glass portrait will be handmade for you using the L.C. Tiffany method. This seller has a huge number of positive reviews, plus plenty of photos from previous buyers showing examples of what you can expect.
Highlights:
Beautifully handcrafted
Available in a range of sizes
Makes a very unique gift
Choose the colors to accompany the portrait
Things to Consider:
Best Funny Personalized Pet Gift
Our Pick: TinyFluffyPaws Custom Pet Portrait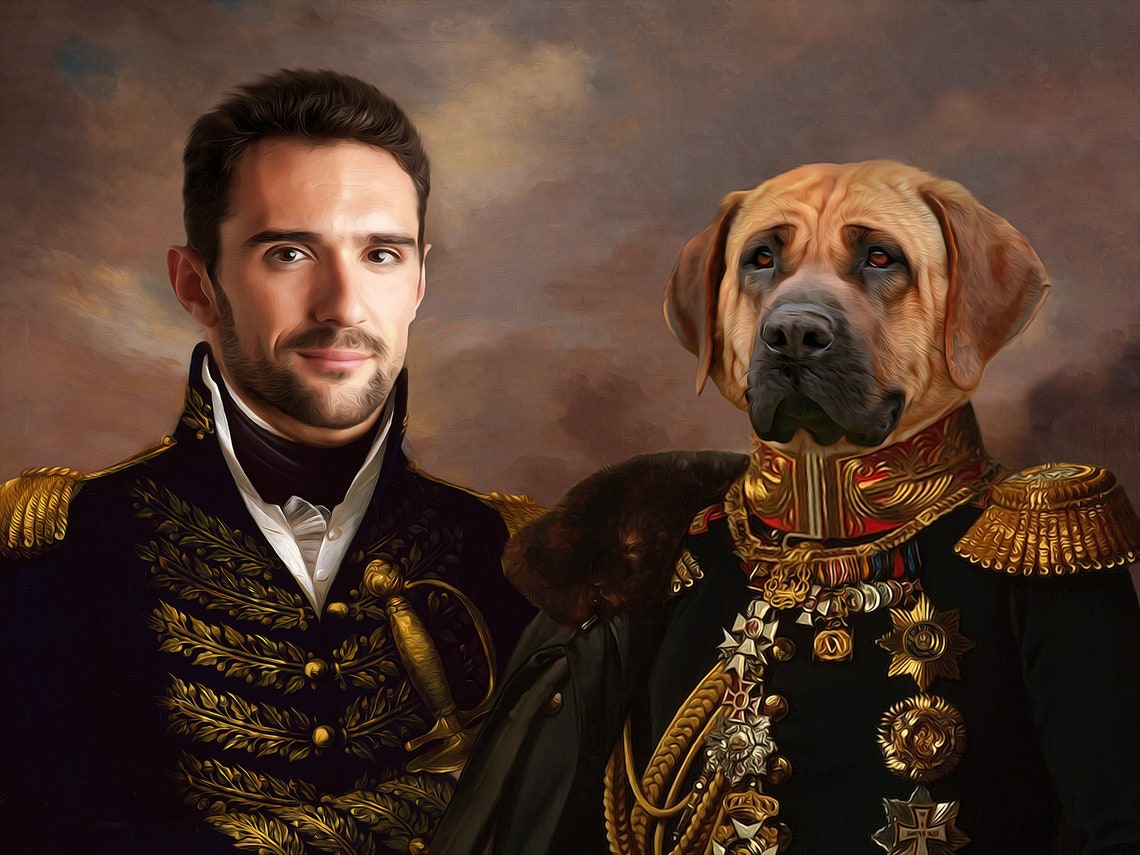 This humorous portrait is bound to make any pet parent laugh out loud. Transpose the head of any pet onto a range of portraits — from Renaissance royalty, to the poster from the movie Stepbrothers, or the classic 1930s American Gothic painting. Just choose an image and upload an appropriate photo — human and pet faces are accepted! If you don't see a portrait that's a perfect fit in the company's catalog of choices, you can suggest any image you like and ask for this to be used instead.
Highlights:
Choose from a digital file or a range of printed canvas sizes
Lots of portrait options to choose from
Create a truly unique gift
Review before purchase
Things to Consider:
Most portraits are for multiple pets, not singles
Expensive
Best Custom Dog Gift for New Dog Parents
Our Pick: Personalization Mall Leash Hook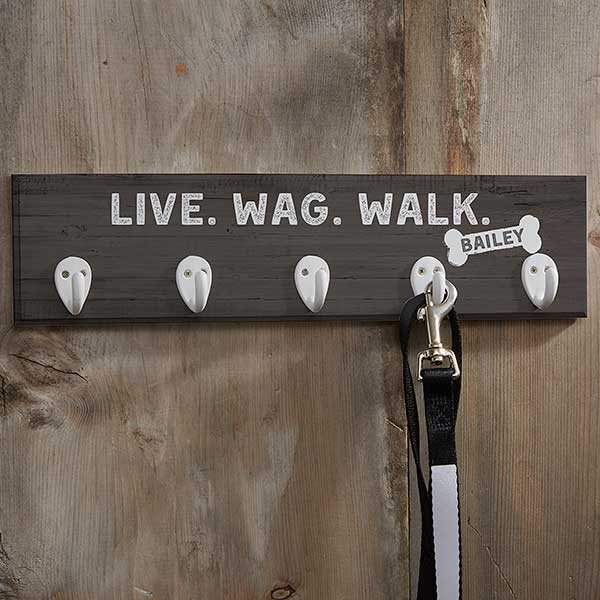 While the proud new pet parents of a puppy have probably already got a bed, collar, and leash sorted they might not have thought about where they're going to store all of their new dog's accessories. Custom dog gifts like this personalized leash hook are the perfect choice. This rustic, farmhouse design comes complete with five hooks, plenty of space for leashes, harnesses, and the obligatory bag of treats! You can personalize this by adding the dog's name within a cute bone motif.
Highlights:
Plenty of space for puppy accessories
Customize with pet's name
Choose from five colors
Fast delivery
Things to Consider:
Needs some home assembly
Made from MDF not real wood
Best Memorial Personalized Pet Gift
Our Pick: Custom Pet Gifts Personalized Angel Photo Necklace
If you're looking for a beautiful memento, this personalized angel photo necklace is a wonderful way for a pet parent to keep a beloved dog or cat close to their heart. The heart and angel wings add a special touch for a departed pet. Simply choose a design, upload a good-quality photo and your jewelry will be custom crafted to your specifications. Choose the length of the chain and whether you want your design on stainless steel or sterling silver. You can even add an engraved message on the reverse of the pendant for an extra-special touch.
Highlights:
Comes in a gift box
Other designs also available
Good value for money
Fast delivery
Things to Consider:
Make sure to follow the photo rules closely
Some detail may be lost
Best Matching Customized Pet Gift
Our Pick: Custom Hawaiian Shirt with Matching Pet Bandana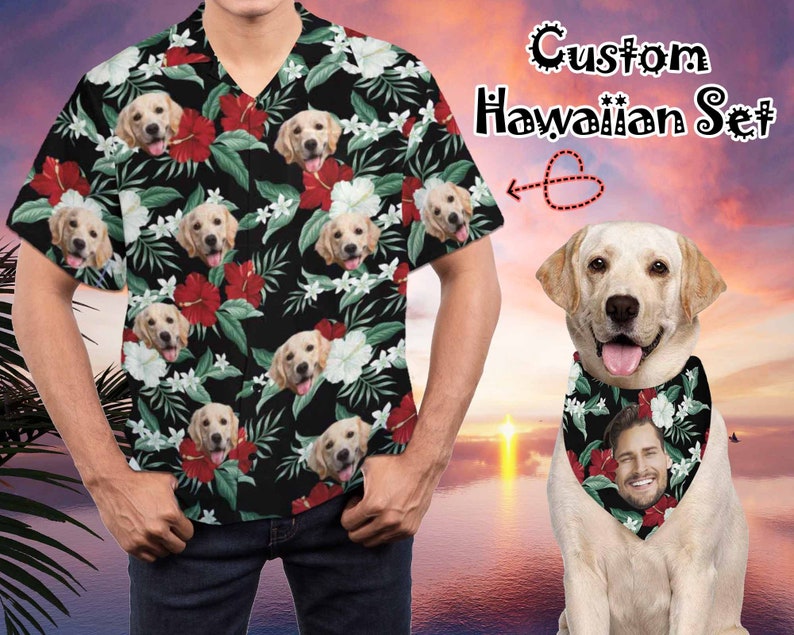 If you're looking for an unforgettable gift that celebrates the bond between a pet and their parent, then this matching Hawaiian shirt and dog bandana should tick all the boxes! Choose from a range of colorful designs, all with a classic tropical theme, of course. Once you've chosen your design, shirt size, and bandana size, simply upload a photo of your gift recipient and their pet. The shirt will come printed with the pet's face, while the bandana comes complete with your friend's face — right in the middle!
Highlights:
Choose from eight shirt sizes and six colors
Made from soft and comfortable fabric
One of the best customized sets we've seen
Also available in other styles
Things to Consider:
Make sure you select the set – not the individual shirt or bandana options
Bandana only comes in one size
Most Unique Customized Pet Gift
Our Pick: Cuddle Clones Custom Plush
Nothing's better than a snuggle with your favorite furball. But a cuddle with an incredibly detailed plush pet handcrafted to look just like your dog or cat could come pretty close! Cuddle Clones are made to capture every nuance of a specific cat or dog (or even rabbits and horses!), down to the tiniest detail, making them an absolutely stunning gift for any special occasion or pet-loving friend. Simply select a species and breed before uploading details of their characteristics including eye color, markings, and more. Cuddle Clones get rave reviews and there are plenty of examples from happy customers on their website.
Highlights:
Handcrafted
100% satisfaction guarantee
Other items (like slippers and mugs) also available
Great customer reviews
Things to Consider:
Expensive
Wait time can be up to eight weeks
Best Value Custom Pet Gift
Our Pick: MyPhotosSocks Custom Face Mash Dog Apron
Most dogs love to hang out in the kitchen when it's time to cook dinner. And this apron is the perfect custom gift to remind whoever's cooking to save some scraps for their canine taste tester! Printed with a repeating image of a pet's face, this apron can be made in washable cotton, a waterproof fabric, or a basic budget fabric. If an apron isn't quite the right gift, there's plenty of other dog customization gifts to choose from, including socks, pajamas, blankets, and more.
Highlights:
Good value for money
Quick delivery
Available in three styles
Other matching items available
Things to Consider:
Needs a good quality photograph
Non-waterproof version may become stained
How to Choose the Perfect Personalized Pet Gift
Choosing a personalized pet lovers' gift takes a little more consideration than selecting a regular gift so before you press "buy now," make sure you take the following tips into account:
Price
Customized pet gifts are a little bit more expensive than an off-the-shelf option, but when you consider that many are either completely handmade, hand-finished, or require a considerable amount of time from the designer to create — they're completely worth it!
Quality
Personalized gifts have exploded onto the market in recent years, and some sellers are not as reputable as others. Guard yourself against dodgy storefronts by taking the time to read reviews (or choose one of our recommendations above!) and contact the seller to see how quickly they respond to your questions. If you get a bad feeling, it's best to avoid it and choose an alternative.
Type of customization
Some gifts allow you to customize for a specific dog or cat breed, while others are a faithful recreation of a specific pet or image. Make sure you know which type you're choosing so you're not disappointed by the result. If a pet is an unusual breed or coloring, then you might only find the perfect match with a fully customized option.
Type of gift
If you're choosing a gift for a close friend, you probably have a good idea of their personal preferences. But for items like home decor, clothing, and jewelry, it can be harder to choose the right option. If you like the idea of buying someone a personalized gift but are worried about getting it wrong, consider a gift voucher or simply ask them their thoughts. It might spoil the surprise a little, but you know they'll end up with a gift they truly love.
Returns or refunds
Many customized gifts are non-returnable, so be sure to follow any instructions provided by the manufacturer very closely. If you need to send a photo, ensure it's a quality, high-resolution image showing exactly what the manufacturer requested (e.g., full body or simply a close-up of a pet's face). Some (but not all) manufacturers will share a digital proof of your product so you can approve it online before it's made and sent to you. If you don't have that option, select a gift with lots of images from other customers, so you can get a better idea of what to expect.