Best Cat Litter Box for Odor Control
Cats are wonderful, cuddly, oh-so lovable companions…and it's a good thing, too! Their sweet qualities make it much easier to overlook the not-so-sweet litter box odor that often comes along with them.
Sometimes, however, those fumes can be hard to ignore. Cats go to the bathroom two to three times a day—and sometimes more if they're older. That means it doesn't take too long for the box to get stinky, no matter how much you scoop, clean, and deodorize. Even super-absorbent, odor-controlling litter sometimes isn't enough to fight litter box funk.
So what's a cat parent to do? The surprising answer may lie within the litter box itself. According to Dr. Jamie Whittenburg, DVM, veterinarian and director of Kingsgate Animal Hospital in Texas, the box you choose could help rid your home of unwanted litter box odor.
How to Keep Litter Box From Smelling
The best way to fight litter box stink is to understand what's behind the odor.
According to Whittenburg, it's not just cat poop and pee that makes up the terrible telltale smell, evolutionary history plays a part, too.
"Cat urine has an unpleasant smell because it's more concentrated," Whittenburg explains. "That's because cats evolved as desert-dwelling animals; their bodies needed to survive on small quantities of water. The more concentrated the urine, the stronger the odor."
In addition, cat urine contains an amino acid called felinine, which contains sulfur. "Felinine is odorless until bacteria begin to break it down, at which point it produces its characteristic pungent smell," she notes.
While cats bury their waste instinctively to mask the smell, it takes much more than that to banish bad odors. In addition to quality litter and regular scooping, Whittenburg says the right litter box is essential.
How do Cat Litter Boxes Control Odor?
Cat litter can make it simpler to get rid of smelly waste. Clumping litter is easier to scoop and toss, while absorbent crystals help slow down the bacterial breakdown that releases sulphuric fumes.
However, you're not always going to be able to scoop a stinky litter box right away. So you need a box that can help reduce smells or keep them contained as long as possible.
Whittenburg says that covered litter boxes are better at controlling smells because they limit just how much odor can spread, much like a bathroom door can keep unwanted smells from the rest of your home.
But, she adds, "the most effective litter boxes for controlling odor are the robotic or self-cleaning type that clean the box after every use."
Why? Litter box maintenance is the most important part of banishing bad smells. A box that does it automatically will stop bad smells in their tracks faster than even the most attentive cat parent can scoop.
Top Odor Control Litter Box Picks
To help you enjoy a sweeter-smelling home, here are the best litter boxes on the market for controlling odor, based on feedback from veterinarians, reviews from happy customers, price, quality, and personal experience. (I have four cats of my own!)
All featured products are chosen at the discretion of the author. However, Great Pet Care may make a small affiliate commission if you click through and make a purchase.
Top Odor Control Litter Box Picks
9 Best Cat Litter Boxes for Odor Control
Best Overall Cat Litter Box for Odor Control
Our Pick: Litter-Robot 4 by Whisker
Shop now using this link and save $25 off your Litter-Robot 4 purchase!
When it comes to automatic litter boxes, Litter-Robot has long been the standard against which all others are measured. And Whisker's newest model, the Litter-Robot 4, lives up to that reputation…and then some. Like its predecessor, this high-tech option handily disposes of smelly waste so you don't have to lift a finger. But it also has enhanced safety features, quieter operation, and an improved design that dramatically reduces litter box odors. Using a patented sifting process, the Litter-Robot 4 separates waste after every use, dumping clumps into a sealed compartment that neutralizes bad smells. It's wifi-enabled, so you can track your cat's health stats, as well as keep tabs on litter levels and when the waste drawer needs to be emptied. You can also use the box for up to 4 cats without issue.
Highlights:
Automatically sifts and removes waste after every visit
Uses lasers and weight sensors to ensure your cat's safety
Seals the scooped clumps in an oversized waste drawer
Includes a foot stand to reduce litter tracking
Wifi-enabled for real-time alerts and monitoring
Add optional OdorTrap system for even more odor control
Easy to set up
90-day at-home trial
1-year warranty
Free shipping
Available in white and black
Things to Consider:
Pricey
May scare cats that are sensitive to sound
Not for cats that don't like enclosed litter boxes
Works with almost any clumping or scoopable litter
Best Self Cleaning Litter Box
Our Pick: Leo's Loo Too by Smarty Pear
If you're looking for another automated option, Leo's Loo Too by Smarty Pear is a great contender. Just like our top choice, it's wifi-enabled and it scoops for you after each time your cat uses it, discarding waste into a sealed waste drawer that's easy for you to dump when it's full. But unlike its competitor, it's automatically Google and Alexa-voice enabled, making it a great addition to your smart home. Plus, it features a programmable light you can schedule. And you can buy it in a variety of fun colors, including pink, pastel green, blue, and grey. It's also relatively quiet in operation, making it a good choice for noise-sensitive kitties, and it's compact, so you don't need to carve out a ton of space for it in your home.
Highlights:
Available in 4 pretty colors
Built-in voice control works with Google and Alexa devices
Wifi enabled
Large, sealed waste drawer
Relatively compact design with a smaller entrance to minimize odor
Programmable light
Relatively quiet motor
Comes with a 90-day trial
Comes with a one-year warranty, which can be extended for a fee
The price includes free shipping
Things to Consider:
Pricey
Won't work for cats that don't like covered boxes
Requires you to use 100% clay-clumping litter
Have to buy a separate litter mat to reduce tracking
Best Top Entry Litter Box
Our pick: Iris USA Cat Litter Box
If your cat is a big fan of jumping into boxes, you might consider a top-entry litter box. This option from Iris USA helps trap odors inside, you can use whatever litter you want, and the top-entry lid helps reduce tracked litter, too. Plus, since your cat can't access their box unless they jump or climb into it, you won't have to worry about your kitty missing the box or spraying outside—which can make odor issues harder. It also comes with a matching scoop featuring a rounded shape that makes it easier to clean because litter or waste won't get stuck in the corners.
Highlights:
Easy to clean
Cuts down on tracked litter
Eliminates the risk of your kitty missing the box or spraying outside
The top tray helps catch litter
Comfortable shape for your cat to move around
Neutral colors
Comes with a matching scoop
Relatively compact design
Things to consider:
The entry hole is a little small for bigger cats
Not for older cats that struggle jumping
A bit pricey for a non-automatic box
Best Covered Cat Litter Box
Our Pick: Modkat Flip Litter Box
Closed litter boxes can help contain odors, but let's be honest…they can also be a pain to clean. Luckily, this one doesn't have that problem. The Modkat Flip's lid will fold back when it's time to clean up and then latch back into place securely with the help of magnets. Plus, it comes with all the other perks of a covered litter box: it's contained, so you don't have to worry about your cat spilling all the litter onto the floor (or spraying outside) and it's large enough for your cat to comfortably step in and out. The entrance is low enough for your kitty to enter easily and it's made of sturdy plastic. You can also use the brand's replaceable tarp liners for easier, faster cleans when it's time to dump the whole box. Plus, it doesn't look bad in your home and the scoop attaches to the side so you won't lose it.
Highlights:
Aesthetically appealing look
Easy for your cat to get in and out
Easy to clean
The lid folds back and re-attaches securely due to magnets
Made of durable, thicker plastic
Well-sized
Can use whatever litter you want
Things to consider:
Pricier than most self-scoop litter boxes
Litter can get stuck in the corners unless you use tarp liners
You'll need a litter mat to prevent litter tracking
Only available in one color
Reuseable tarps by the brand cost $30 for a three-pack
Best Sifting Litter Box
Our Pick: Boxscoop 2.0
Anything that makes scooping less painful and time-consuming is a win in our books, especially when we really should be scooping our box at least once a day for optimal odor control. That's why we like the Boxscoop 2.0. It may not be automatic, but it can cut the scooping down to six seconds thanks to its patented design. All you have to do is take off the lid, rest the elongated scoop across the top, and lift the sifter that rests inside the pan to remove the waste and you're done. Plus the elongated scoop features a hidden compartment that stores poop bags, so everything is where you need it, when you need it, to reduce chore time. The box itself is also a top entry, trapping in odors while also cutting back on kitty accidents outside the box.
Highlights:
Unique design that cuts back on scooping time
Scoop in six seconds or less.
Top-entry enclosed box
Comes with scoop, bags, and sifter
Works well with silica, crystal, or clay litter
Reasonably priced
Things to consider:
May be small for some larger cats
Top-entry is not ideal for older cats or cats who struggle to jump
A limited number of colors included
Doesn't work well with wood or pellet litter
Best Automatic Covered Litter Box
Our Pick: ScoopFree by PetSafe Covered Self-Cleaning Litter Box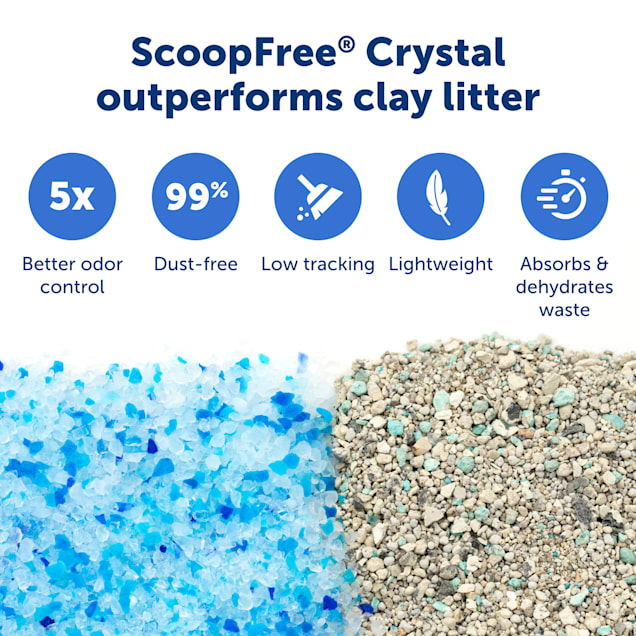 If you're a fan of the traditional litter box with a lid, but want some help scooping, this automatic option is a perfect choice. It comes with a lid that fits over a more traditional-shaped litter tray. It has safety sensors, just like higher-end automatic litter boxes, that can tell when your cat is using the box and when they're not. But, unlike rotating drums other brands use, this one simply rakes the litter box, pushing any waste into a sealed container. This raking will also stir up the crystal litter it requires you to use, a type of litter that absorbs and locks in urine smell. If you have just one cat, you can go several weeks between cleaning and refilling the litter box. This litter box also allows you to buy disposable trays with plastic lining to make full box cleaning even easier.
Highlights:
Self-cleaning litter box
Uses disposable trays with plastic liners
Uses special crystal litter to lock in and absorb liquids
Self-cleans for a couple of weeks between full litter box cleanings
Super easy to use
The lid can be removed or put on, depending on the cat's preference
More affordable than other self-cleaning boxes
Also available with a top-entry lid
Things to Consider:
The cost of disposable trays can add up
Requires you to use crystal litter
Still relatively pricey compared to self-scoop litter boxes
Best Odor Control Litter Box With Lid
Our Pick: Booda Clean Step Litter Box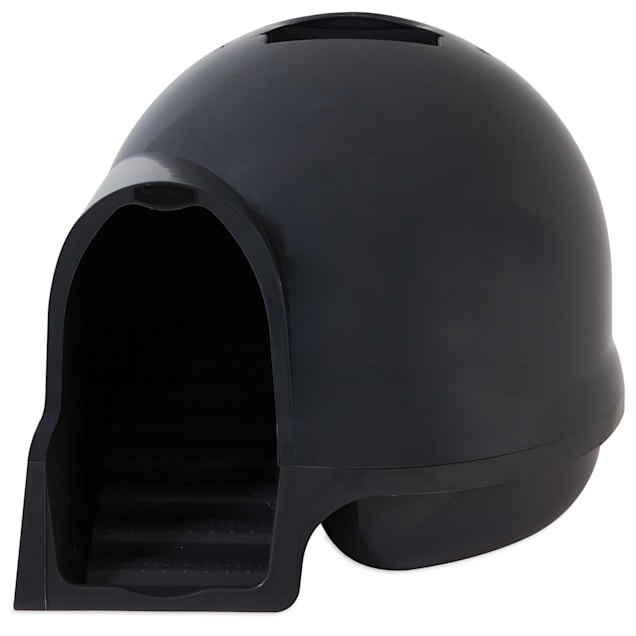 This litter box with a lid is no ordinary covered litter box. Instead, it has a unique design allowing your cat to enter on easy steps, which helps contain smells. It also has a filter at the top to help trap odors as well and it's made of durable plastic. Plus the stairs help cut back on tracking, though you'll probably still want to put a litter mat underneath it. And all you have to do to clean it is remove the lid and you can scoop then put it back on. The litter box is available in multiple colors, though it doesn't have a convenient place to store the scoop.
Highlights:
Simple but odor-controlling design
Stairs allow your cat to enter comfortably
Design cuts back on litter tracking
Easy to scoop and clean
Large size works for big and multiple cats
Can use any litter you want
Available in multiple colors
Uses a replaceable filter to cut back on the odor
No spilling over edges, missing the box or spraying outside the box
Things to consider:
No place to store a scoop
Still needs a litter mat to catch litter
Some cats may not like how enclosed it is
Large footprint
Best Splurge Litter Box
Our Pick: Tuft & Paw Cove Litter Box
If the key to controlling litter boxes is a regular clean, you want a litter box that is easy to clean. And that's exactly what this litter box is. It's got walls to keep your cat from dumping all their litter on the floor, missing the box, or spraying. But those walls are removable so you can easily rinse them down and clean up urine stains. It has an open lid, which means it's easy to scoop and it's ideal for cats that don't like feeling enclosed. Best of all, it's got compartments to store the scoop, as well as a dustpan and brush to clean up any fallen litter around the box.
Highlights:
Easy to scoop and clean
Comfortable for cats to get in and out of
Storage compartment for included scoop, brush, and dustpan
Walls are removable for easy wash
Ideal for cats that hate feeling enclosed
Visually appealing, modern design
You can use any type of litter
Things to consider:
Pricey, especially for a self-scoop box
You'll still need a litter mat
Open box, so less odor-controlling without regular cleanings or good litter
Best Budget-Friendly Litter Box
Our Pick: So Phresh Geometric Covered Cat Litter Box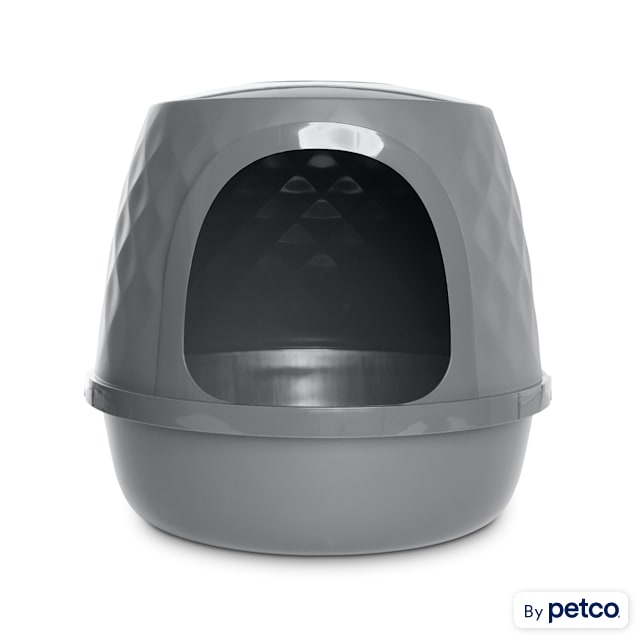 Litter boxes can get pricey, fast — especially when they have lids, extra features, filters, or self-clean. So if you're looking for a good litter box that won't cost you an arm and a leg that has decent odor control, this is the one you want. It has a rounded shape, meaning litter and waste won't get stuck in corners, even if you don't use a liner, and it's got a lid to help trap some of the smell. It's also easy to enter—even for older cats—and easy for you to clean when you pop off the lid.
Highlights:
Easy to clean
No corners to trap litter or smells
Tall sides to cut back on litter spills
Lid traps odors
Easy to move around
Comfortable for cats to get in
Can use any litter you want
Comes with a filter to neutralize odor
Things to consider:
You'll still want a litter mat
Not the largest size, may feel cramped for big cats
Not available in multiple colors
Odor Control Litter Box Tips for Success
When you're shopping for a cat litter box, there are plenty of things to consider. Here are some tips to help guide your buying decision and transition to a new litter box successfully:
Consider your cat's preferences
First, is this a box your cat will actually use? "Buying a litter box and litter that your cat is comfortable with and will use every time is of utmost importance," says Whittenburg. "No one likes littler box odors, but if the cat avoids the box and urinates and defecates elsewhere, the odor won't be the only problem you need to deal with."
Of course, some cats are fickle. And others might need some time to warm up to the idea of a new box. So when you're in the market for a new litter box, consider testing out a few styles to figure out what your cat might like best.
"It is often advisable to have multiple boxes, with lids and without, and with different litters, to ascertain your cat's preference," Whittenburg suggests. Just make sure you put the new boxes somewhere familiar, so your cat isn't facing too much change. And check to see if there;'s a trial or return period, like the 90-day in-home trial offered with the Litter-Robot 4.
Take it slow, change can be hard
Always transition to a new litter box slowly, and allow your cat the option of using an older litter box they're familiar with, to ease the change.
If you're considering an automatic self-cleaning litter box, remember that the noise and motion might frighten your cat, making them reluctant to use their fancy, new, high-tech bathroom. So, when introducing an automatic litter box, "always do so slowly and with the cleaning function turned off at first, until the cat is comfortable using the box," Whittenburg recommends.
However, if you have a cat who is very particular about the cleanliness of their litter box—but you're too busy to scoop multiple times a day—stick with it. A self-cleaning litter box might be just what you (both) need.
Check litter requirements
Pay close attention to what kind of litter the box requires you to use. For example, many self-cleaning litter boxes require you use clumping clay litter, which works well at controlling odor and is easily scooped. "However, it can be dusty and is likely not a good choice for cats with respiratory issues," Whittenburg warns
Meanwhile, other self-cleaning litter boxes require silica or crystal litter, which can be effective in locking in odor, but only if it is stirred frequently to distribute the urine.
Choose features that work for your cat and your home. You'll also want to consider how your cat enters the litter box. Most litter boxes allow the cat to enter from the side, but some also have top entry, which cuts back on litter tracking and odors. They're not ideal for older kitties or cats with sore joints though.
If you don't get a lid, you'll also want to look into litter boxes with tall sides so your cat doesn't kick the litter all onto the floor while they dig. "Cats are fastidious animals and prefer to bury their waste," says Dr. Whittenburg. "It is theorized that cats bury their waste to avoid alerting predators to their presence in the area." Consider also getting a litter mat to help prevent your cat from tracking litter around the house as that can cause the litter box odor to spread, no matter how often you scoop.
Keep your budget in mind
Finally, you'll want to pay attention to the price. It is far more affordable to pick up plastic litter boxes—covered or uncovered—than it is to buy self-cleaning litter boxes, which can cost several hundred dollars. If you have multiple cats, you'll likely need several boxes too—so it can add up quickly.