5 Fun Suction-Cup Dog Toys to Keep Canines Busy
All featured products are chosen at the discretion of the author. However, GreatPetCare may make a small affiliate commission if you click through and make a purchase.
Dogs love playing tug-of-war. Anytime, anywhere, most pups are down for a rousing round of the classic game.
The only problem? It takes two to play. So if you're not available, your pup is out of luck—unless, of course, he has a suction-cup dog toy.
The concept is simple: a strong suction cup anchors the toy to the ground, while the attached rope and chew toy challenges your dog to pull, bite, and play to his heart's content.
While a one-on-one play session with you is always preferable, suction-cup dog toys can provide enriching entertainment when your pup is home alone (or when your arms are too tired for another game of tug-of-war).
Suction-Cup Dog Chew Toys: What to Look For
When selecting a suction-cup toy, durability is key. After all, it needs to hold up to some serious gnawing and pawing.
"Look for dog-friendly, durable materials," says Joan Hunter Mayer, a certified professional dog trainer based in Santa Barbara, California. "The materials and design should be easy to clean and care for, and not have too many pieces that come apart."
Carefully read the toy's instructions to ensure it is safe for dogs of all ages and size, advises Mayer. For example, a toy that is appropriate for a Chihuahua might be a choking hazard for a stronger, larger German Shepherd.
When first offering the toy, supervise all play. A poorly constructed toy could potentially injure your dog or present a choking hazard. "Both the owner and dog will need to learn to trust the toy to make sure it is friendly," says Mayer.
Suction-Cup On Floor Dog Toys: What to Consider
Suction-cup dog toys aren't for every dog or home.
Even the most durable versions concede that large, strong, persistent dogs will eventually get the best of the suction cups. Clever pups may even figure out how to skip the pulling and undo the suction cups with their paws.
Suction cups adhere best to smooth surfaces, such as tile or laminate flooring. Floors with more texture, including hardwood or concrete, aren't ideal.
If you'd also like to use the toy for interactive play, consider suction-cup dog toys with balls. When detached from the floor, toys with bouncy balls can be great for a game of backyard fetch.
How We Ranked Our Top Suction-Cup Dog Toys
When selecting our favorite suction-cup toys, we considered a number of criteria.
Sturdy, durable construction and pet-safe materials were at the top of our list. Toys that offered extra enrichment—such as textured surfaces and treat-dispensing options—added bonus points.
And finally, we looked for pawsitive reviews from satisfied pups.
Best All-Around Suction-Cup Dog Toy
Our Pick: MeFee Dog Pulling Chew Toy
This tug-of-war dog toy offers a little bit of everything. With an extra-strong double anchor, it can stand up to significant pulling. To make things more interesting, the ball features a textured surface and removable jingle bell.
Want to treat your Very Good Boy? Stuff some kibble in the ball—your pup will have fun working for his snack!
Highlights
Suitable for small to large dogs
Double suction-cup anchor
Quick-release suction cup design
Treat-dispensing slots
Removable bell
Things to Consider
Some super smart pups may find the part of the toy that allows for humans to remove the suction cup. But this toy worked for most dogs who tried it.
Sample Buyer Review: "My dog loved this toy! It stuck very well on the glass of my sliding door, porch tile floor, underneath the counter, and on my bedroom door. It turned into a fun game for my dog."
Best Teeth Cleaning Suction-Cup Dog Toy
Our Pick: Vister Molar Stick Chew Toy
Looking for a two-in-one toy? This crafty design can help clean your dog's teeth as he plays. While most suction-cup toys feature a ball, this one boasts a molar stick. The curved, serrated edges are specially molded to clean your dog's teeth, as well as provide extra stimulation for teething puppies.
Highlights
Suitable for small to large dogs and dogs of all ages.
Double suction-cup anchor.
Made of food-grade TPR rubber materials. Eco-friendly and safe.
We love the added dental benefits and unique design.
Things to Consider
Best for ceramic tile or glass.
Pull the corners on the suction cup to release.
Sample Buyer Review: "This is a great toy because I can put a treat inside and she can chew on it and play with it for awhile."
Best Treat Dispensing Suction-Cup Dog Toy
Our Pick: PLYFUNS Upgraded Suction Cup Dog Toy
Treat dispensing toys are a great way to turn mealtime into playtime. This suction-cup version provides a double-dose of enrichment: Your pup gets to enjoy a game of tug-of-war, as well as a tasty snack.
This toy has specially designed slots that slowly release treats as your pup plays. Simply stuff it with kibble or small snacks, secure it to the ground, and let your dog take things from there.
Highlights
Suitable for small to large dogs.
Specialized treat dispensing slots.
Textured ball.
Things to Consider
Some online buyers found the bells a little bit annoying. But if your pup likes noises, it might add a fun element.
For the best suction results, step on the suction cup with your foot when attaching to a smooth, clean surface.
Sample Buyer Review: "Our pup prefers this toy to his other busy toys. Very durable and great at keeping treats from coming out all at once, but often enough to keep him intrigued."
Best Suction-Cup Dog Toy for Strong Chewers
Our Pick: JRHC Suction Cup Dog Toy
No dog toy is truly "indestructible." Given enough time, aggressive chewers can destroy almost any plaything on the market.
This toy, however, is built to stand up to some serious gnashing. Dual suction cups hold it down, while both the torpedo-shaped chew toy and sturdy ropes are bite-resistant. If your chompy dog manages to destroy it, return it for a full refund for up to 30 days.
Highlights
Suitable for small to large dogs.
Double suction-cup anchor.
Bite-resistant rope and chew toy.
Quick-release suction cup design.
We love the money-back guarantee.
Things to Consider
Some of the online reviewers thought the rope was a little short. Otherwise, this toy gets great ratings.
Sample Buyer Review: "Love this thing! Dog loves it, too. He can chew through pretty much anything, and believe me, he has. Since having this, he hasn't chewed anything else!"
Best Suction-Cup Dog Toy for Interactive Play
Our Pick: Cosstcoss Pet Molar Bite Ball With Suction Cup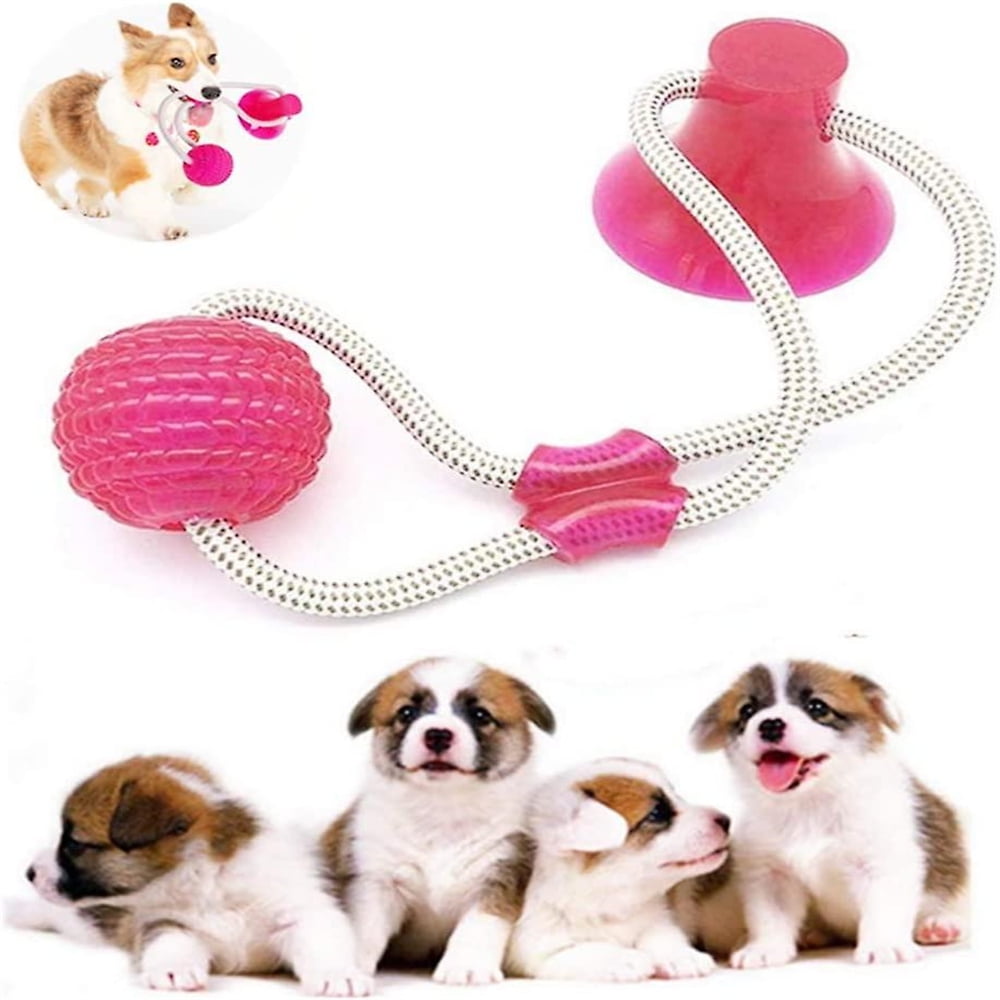 Pulling double duty as a suction-cup dog toy and a helpful tool for canine oral care, this option is bound to keep your pup entertained and their chompers in tip-top shape. Ideal for chewing, the textured, food-grade thermoplastic rubber (TPR) ball helps promote cleaner teeth. Plus, it bounces for added playtime fun, whether you keep it suctioned or toss it around for your dog.
Highlights
Soft, textured, non-toxic TPR ball helps promote healthy teeth.
Ball bounces for added entertainment/play options.
Suction cup is sturdy yet simple to release.
Easy to clean; just rinse and go.
Things to Consider
You may need to add water to improve suction cup strength.